Asparagus is a versatile and nutritious vegetable that can be enjoyed year-round. Whether you're looking for a flavorful side dish or a tasty addition to your main course, these three easy-to-make asparagus recipes are sure to impress. Not only are they delicious, but they are also perfect for a diabetic-friendly meal. Let's dive in and discover the wonders of asparagus!
The Variety of Asparagus
There are several types of asparagus, each with its own unique characteristics. The most common variety is the green asparagus, which is widely available in supermarkets. It can be enjoyed raw, steamed, baked, grilled, or added to salads. Another popular variety is the white asparagus, preferred in Europe. It requires peeling before cooking and is not suitable for raw consumption. Lastly, we have the purple asparagus, which should be eaten raw to fully enjoy its vibrant color. It adds a touch of beauty to any dish!
Choosing the Best Asparagus
When selecting asparagus, there are a few key things to look for to ensure you get the best quality. Make sure the stalks feel firm to the touch and can snap when bent, except for white asparagus. The stems should be able to stand up and not feel limp or spongy. Look for dark green tips that gradually fade towards the base. In the case of white or purple asparagus, vibrant colors are a good indicator of freshness. Avoid asparagus with black or mushy tips. And remember, if the asparagus is standing in water, check that the water appears fresh and not slimy.
Keeping Asparagus Fresh
To keep your asparagus fresh at home, store it in the refrigerator. Wrap the base of the stalks in wet, water-soaked paper towels to prevent the stems from drying out. Alternatively, you can use an asparagus and herb keeper. With proper storage, asparagus can stay fresh for about 3 to 4 days.
Preparing and Cooking Asparagus
Asparagus can be prepared in various ways, depending on your preferences. You can steam it, bake it, fry or sauté it, or even grill it to perfection. Steaming is a quick and easy method that maintains its crispness. Baking allows you to add flavors by brushing the asparagus with olive oil or your preferred oil before cooking. Sauteeing in a large skillet or simmering with a small amount of water are other fantastic options. If you're a fan of grilling, try using a grilling sheet for effortless and delicious results.
Easy and Delicious Asparagus Recipes
1. Sauteed Asparagus with Almonds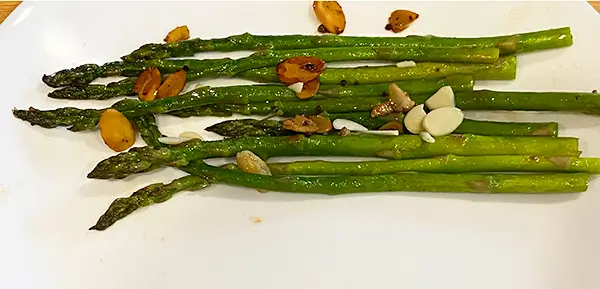 This sauteed asparagus recipe is both flavorful and nutritious. The combination of tender asparagus and crunchy almonds creates a delightful texture. It's a perfect side dish that pairs well with any meal. Each serving contains approximately 30 calories, 2.7 grams of total carbs, and 1.3 grams of dietary fiber.
2. Bacon-Wrapped Asparagus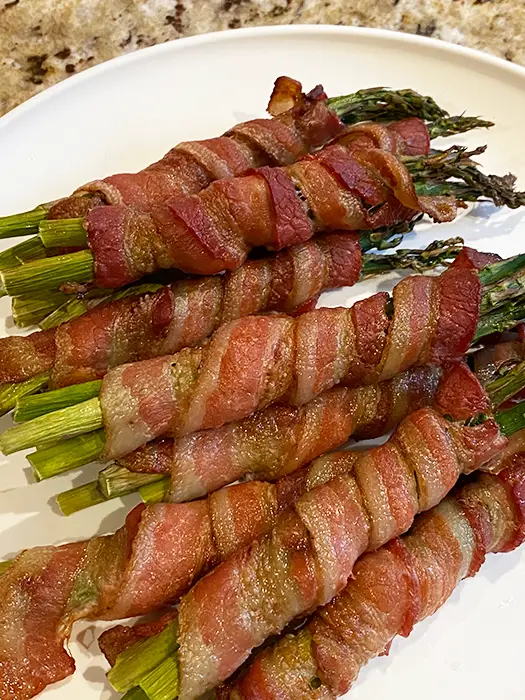 Indulge in the irresistible combination of smoky bacon and tender asparagus with this bacon-wrapped asparagus recipe. It's a crowd-pleasing dish that will impress your guests. Each serving contains approximately 108 calories, 2.4 grams of total carbs, 1 gram of dietary fiber, and 0.7 grams of sugars.
3. Simmered Asparagus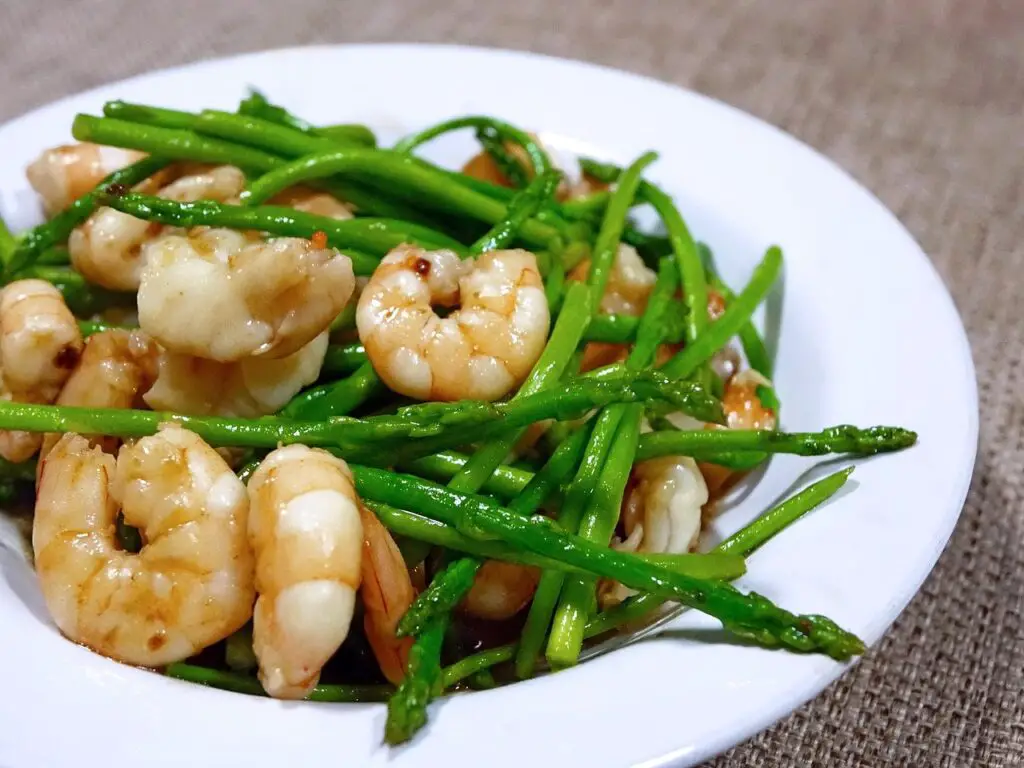 For a simple and classic approach, try this simmered asparagus recipe. It highlights the natural flavors of asparagus with a gentle cooking method. Each serving of simmered asparagus contains approximately 20 calories, 2.4 grams of total carbs, and 1 gram of dietary fiber.
Canning and Freezing Asparagus
If you have an abundance of asparagus and want to preserve it for later, you have two options: canning or freezing. Canning is not recommended as it tends to alter the taste and texture of asparagus. Freezing, although not as good as fresh, is a better alternative. To freeze asparagus, blanch the stalks and lay them on a sheet pan without touching. Once frozen, transfer them to a sealed airtight freezer bag. However, it's worth noting that fresh asparagus offers the best taste and texture.
These three easy and delicious asparagus recipes are perfect for any meal and will add a touch of elegance to your table. They are also diabetic-friendly, making them a great choice for those looking to manage their blood sugar levels. Enjoy the fresh and vibrant flavors of asparagus while taking care of your health!
Thank you for visiting The Naked Diabetic. For more delicious recipes and helpful tips, make sure to follow us on Pinterest!
Disclaimer: This post may contain affiliate links. When a purchase is made through our links, The Naked Diabetic may receive a commission, at no cost to you.