Sometimes, choosing your next travel destination can be more challenging than you expect. Especially when you've narrowed it down to a continent but are torn between two incredible countries. Southeast Asia is home to numerous captivating destinations, but the true gems of the region are Cambodia and Laos. From breathtaking landscapes adorned with rice paddies and lush tropical jungles to cultural temples and buzzing cities, these bucket-list destinations offer unique experiences. So, which one should you explore first? Let's delve into the three c's – culture, cities, and cuisine – to help you make an informed decision.
Culture

Traditional dance, Cambodia
Cambodia's culture is a tapestry of ancient traditions that have endured for centuries. Rooted in reverence for ancestors, Cambodians embrace values like honour, kindness, and humility. Religion permeates their daily lives, with families and businesses adorning small shrines and offering gifts to orange-robed monks, who can often be seen strolling the streets or visiting grand temples. These temples, with their intricate sculptures and awe-inspiring designs, are a testimony to Cambodia's rich heritage. Among them, Angkor Wat stands out as one of the most renowned and instantly recognizable religious monuments, dating back to the 9th century.
In Laos, a strong sense of community prevails, and people choose to live close to their families. Religion also plays a crucial role, as Laotians pay homage to their ancestors and visit ancient temples regularly. This blending of values fosters unity during Buddhist holidays, sacred periods, and traditional festivals, where respect, connection, and kindness take center stage.
Cities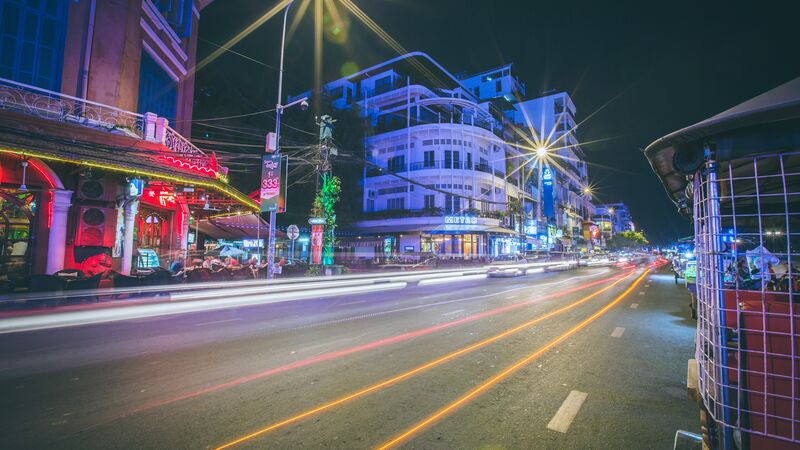 The streets of Phnom Penh, Cambodia
In Cambodia, the cities are a fascinating blend of chaos and beauty. While bustling markets, elaborate temples, and riverfront bars offer endless opportunities for exploration, each city has its distinctive charm. From the trendy restaurants of Siem Reap to the vibrant food scene in Phnom Penh, Cambodia's capital, you'll find yourself immersed in a whirlwind of exciting experiences. Whether you're strolling through busy markets or admiring breathtaking views, Cambodia's cities promise an unforgettable holiday.
Laos may not boast many large cities, but the ones it does have provide a glimpse into the country's captivating way of life. The capital city, Vientiane, exudes charm and vibrancy, with sprawling markets, ornate temples, and the magnificent Patuxai, Laos' version of the Arc de Triomphe. Other towns and villages, like Luang Prabang, Muang Xay, and Pakse, offer their own unique attractions, ranging from trendy cafes and UNESCO world heritage sites to mountain ranges and delectable cuisine.
Cuisine

Plates of traditional Cambodian food
Cambodian cuisine is a culinary delight, bursting with flavor and variety. Influenced by its Asian neighbors, traditional Cambodian meals often revolve around rice and noodles, paired with your choice of protein, whether it's chicken, pork, or fish. From the national dish fish amok to nang soup, vegetable spring rolls, and the famous Khmer, the flavors will leave your taste buds yearning for more.

Chillis drying
Laos is a culinary paradise that tantalizes the taste buds. Drawing inspiration from neighboring countries, you can embark on a gastronomic adventure, indulging in banquets, street food, and market snacks influenced by the flavors of China, Vietnam, and Thailand. Don't miss out on trying larb, a spicy meat salad served with vegetables and sticky rice, or Khao poon, a delectable rice noodle soup infused with chili, lime leaves, and garlic paste.
The Verdict
Choosing between Cambodia and Laos is no easy task. However, when it comes to mesmerizing cities and exceptional cuisine, Cambodia takes the lead. Its bustling cities brim with charm, and its food scene is a true culinary journey. Nevertheless, that's not to say Laos should be overlooked. If your heart is set on Cambodia but you're still curious about Laos, consider embarking on a Southeast Asia loop adventure, where you'll get to explore both countries.
Embark on a journey like no other and discover the wonders of Cambodia and Laos. Book your adventure with Ekilove today!