Homemade Dog Food is the easiest way to make healthy, nutrient-dense meals for your furry friend, and is especially important if you have a pet who suffers from food allergies, skin problems, or gastrointestinal sensitivities.
This recipe takes mere minutes to prepare and is filled with a proper balance of rich protein, whole grains, and vegetables-the perfect wholesome combination of people food for pups without using any artificial or processed ingredients.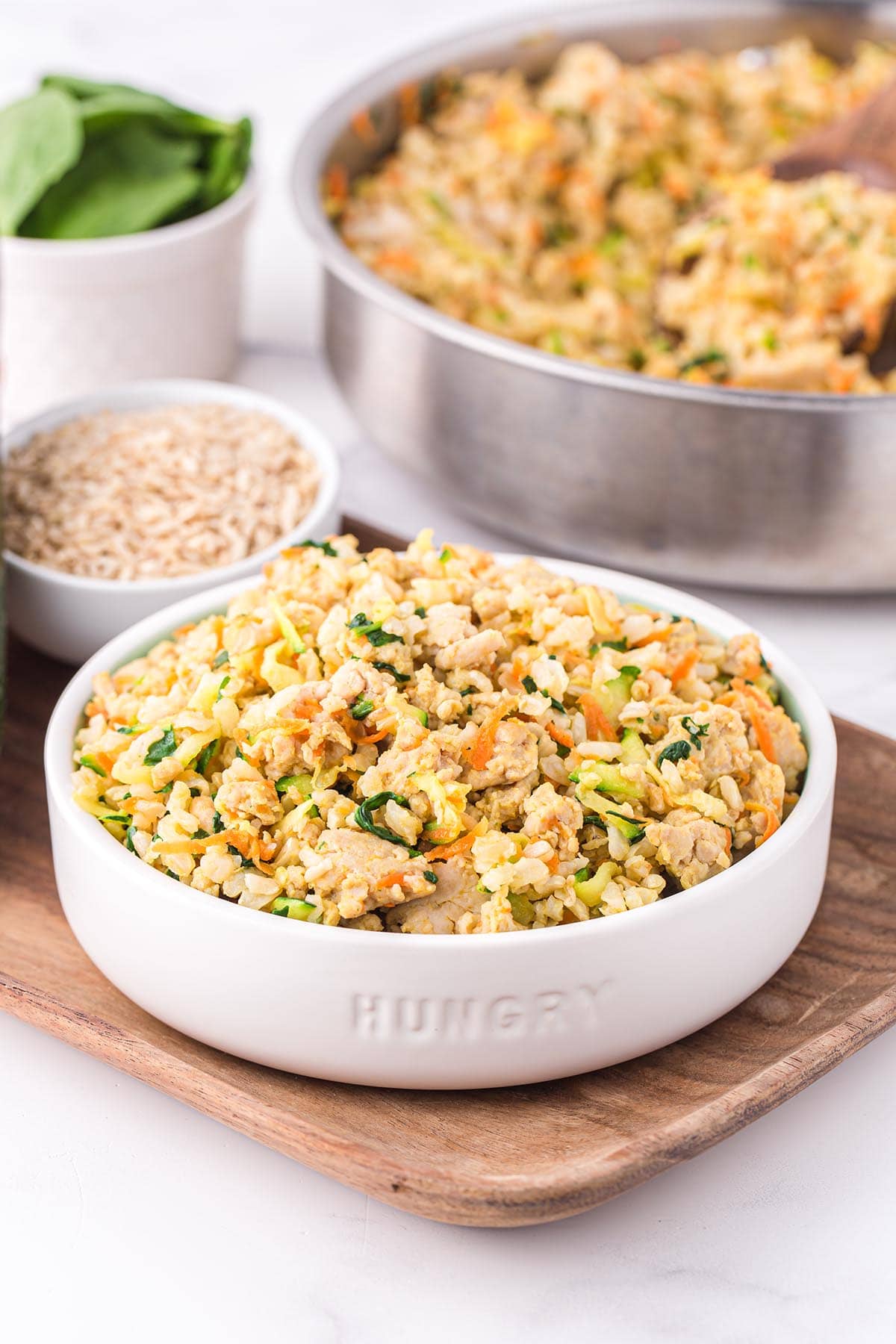 Healthy and wholesome Chicken and Rice for Dogs
This Homemade Dog Food Recipe is a simple and cost-effective way to ensure that your dog remains healthy and fit and is so easy to make by mixing brown rice with ground chicken and fresh vegetables.
A traditional doggie diet of processed kibble lacks nutritional value, but when you make your own dog food from scratch, you know exactly what you are placing in the pet bowl; it's pure wholesome human food that's fit for canine consumption.
Whether you're a new pet parent or have a senior dog with special dietary needs, this DIY recipe contains an appropriate proportion of protein, complex-carbs, fiber, and fat, plus vitamins and minerals, to fuel your pup in a healthy way.
And while you may be thinking that making additional meals won't fit into your busy day, this recipe takes only 5 minutes to prepare and the simple cooking steps are as basic as boiling rice and combining it with a cooked chicken veggie mixture. Dogs deserve a dinner made with real ingredients that are not only nutritious, but also taste delicious!
Just like humans, every dog is different, so this is not meant to be a one-pup-fits-all recipe. Check with your vet before adding any new food to your dog's diet.
Why we love this healthy, Homemade Dog Food Recipe
Quick and easy to prepare in 5 minutes.
Made with 5 wholesome, nutrient-dense ingredients.
Recipe can easily be adjusted and customized to suit your pup's breed and/or nutritional needs.
Feeding your dog fresh food ensures that there is nothing artificial nor harmful preservatives.
Better and cheaper than anything store bought.
Dogs think this DIY recipe is delicious!
What you'll need for this Homemade Dog Food Recipe
Brown rice: White rice can also be fed to dogs, but it only takes about 20 minutes to cook, so plan accordingly.
Lean ground chicken: You could also use lean ground turkey or lean ground beef.
Spinach: Feel free to replace this with any type of lettuce.
Carrot
Zucchini: Any other type of squash plant can also be substituted here.
Recommended Tools
Large pot or saucepan
Measuring tools
Large skillet
Stirring tools
Chicken and Rice Dog Food substitutions and additions
Vary The Veggies: Feel free to use a frozen veggie blends that contain peas, corn, carrots, and green beans. Cooked sweet potatoes are also a great addition to bulk up their meals, just make sure never feed your dog raw sweet potatoes.
Pick Your Protein: Lean ground beef, ground chicken, ground white or dark meat turkey, and ground pork are all great protein options. Be sure to check that any meat you feed your animals is free of seasonings.
Other Great Grains: Other whole grains like oats, quinoa, barley, potatoes, and even whole grain pasta are also easily digestible and can be added to homemade dog food.
Flavor Factor: Fresh and dried herbs are safe for dogs and are loaded with health benefits. Try parsley, cilantro, thyme, or basil to increase the flavor factor.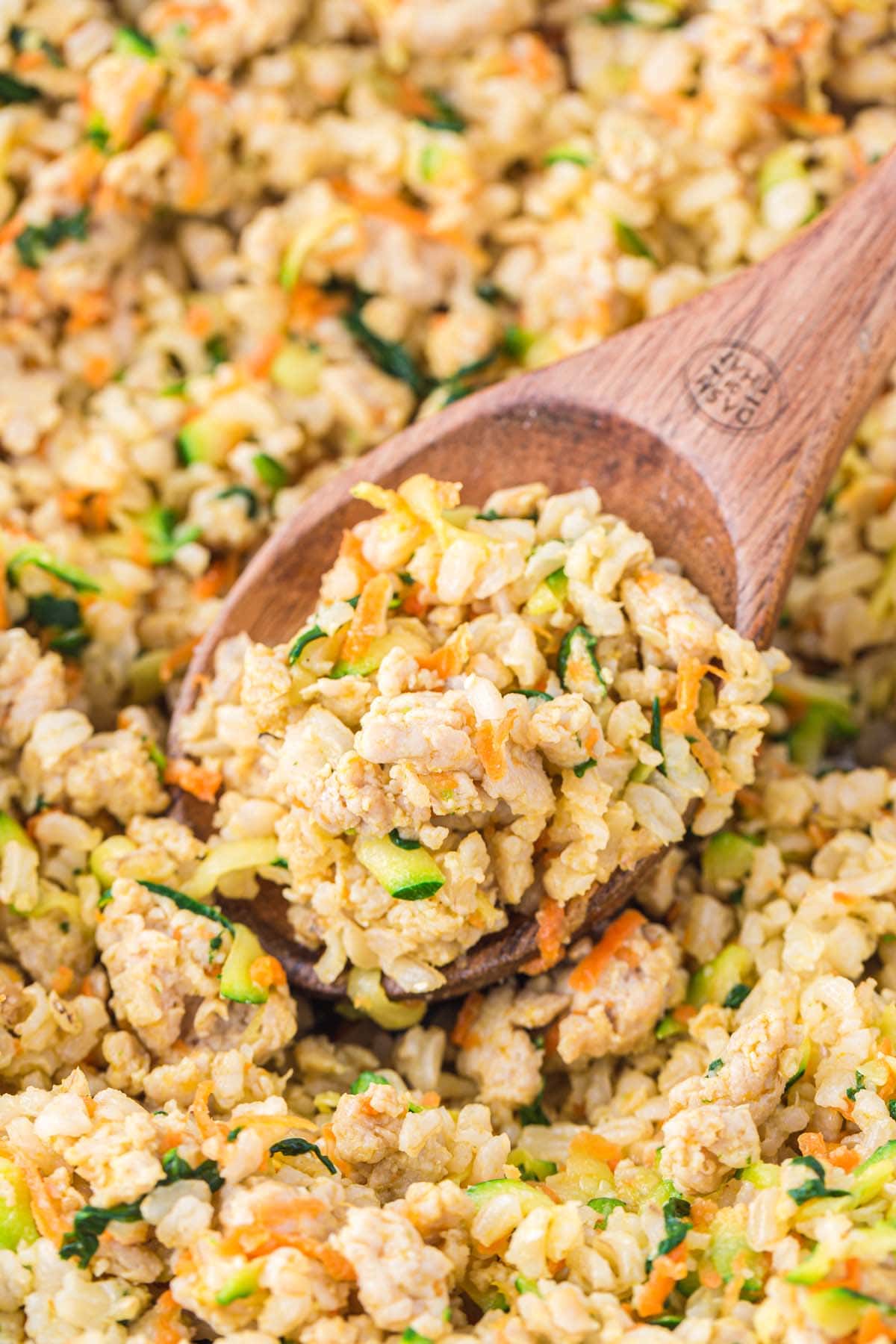 IMPORTANT NOTE: Please consult your vet before feeding your pet anything new!
SEE FULL PRINTABLE RECIPE CARD BELOW
How to Make Homemade Dog Food
Homemade Dog Food is so easy to make and is a cost-effective way to feed your furry friend a healthy, nutritious meal. This recipe simply combines whole grain rice with lean ground chicken and fresh vegetables for a wholesome alternative to traditional dog food.
Bring 4 cups of water and rice to a boil, then simmer on medium low to low heat and cover the pot.
Cook rice for 45 minutes or until rice is soft and water is absorbed.
While the rice is simmering, cook the ground chicken in a skillet over medium high heat until no longer pink, about 6-8 minutes.
Add the spinach, carrot, and zucchini to the skillet and cook until the spinach wilts, and the other vegetables soften, about 3-4 minutes.
Remove the cooked chicken and vegetable mixture from the heat and set aside to cool.
When the rice is finished cooking, mix it together with the chicken mixture.
Cool completely before serving to your dog or storing for later.
Dog Food Homemade recipe tips
It's not usually advised to abruptly change your dog's diet. Start transitioning your pet to homemade food by mixing some of this homemade dog food in with their regular food for a few days until they are used to the new food. And again, always consult your vet before feeding your pet something new.
To give your dog a variety of different nutrients, you can use different meats, carbs, and vegetables to customize your dog's food.
Be sure to find a dog food recipe that is complete and well-balanced. One of the biggest mistakes you can make is to feed an incomplete or imbalanced diet to your dog.
Homemade Dog Food storage
To Store: Leftovers can be stored in an airtight container in the refrigerator no more than 2 hours after cooking the food.
To Freeze: You can freeze the dog food in a freezer-safe container for up to 6 months.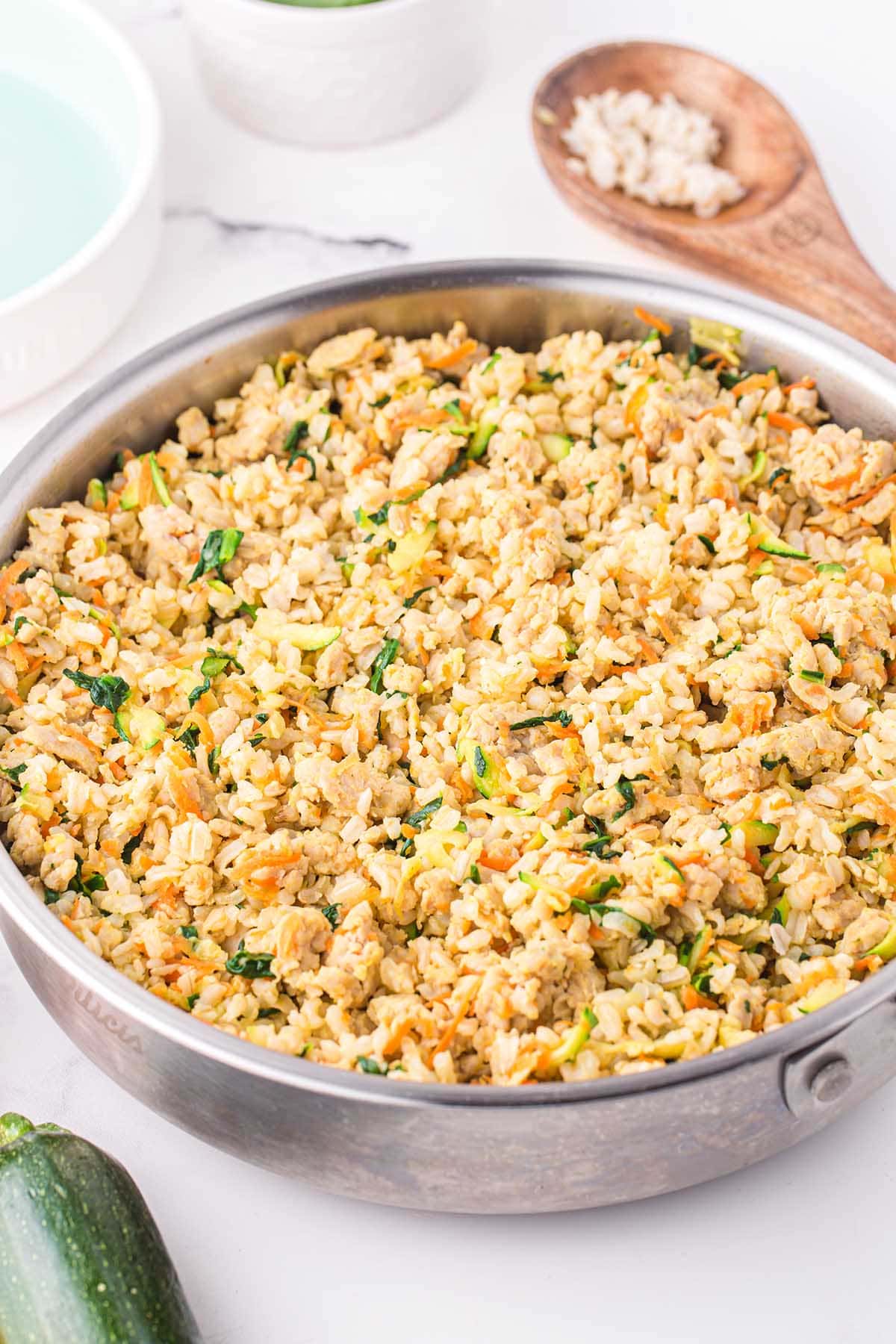 Homemade Dog Food Recipe FAQs
Other Easy Homemade Recipes for your Dog
More Favorites from Princess Pinky Girl