How to cook pork shank perfectly on the stove and oven is here. This is officially the best way to make pulled pork with the forearm of a pig with tons of flavor.
Pork Shank Recipe
Maybe you saw these at the store and curious what they taste like, or how you'd need to cook it. I was too until they were on sale and so cheap I just couldn't pass picking one up. This one was a little less than 2 pounds. Most vary between 1-2 lbs. so the timing should work for almost all of them.
Smaller than the piece we use when we make our Dutch oven pork roast, these still take a bit to get just right because the meat can be tough and chewy. BUT if you use a lot of heat for a longer duration of time you can break that down so it melts in your mouth.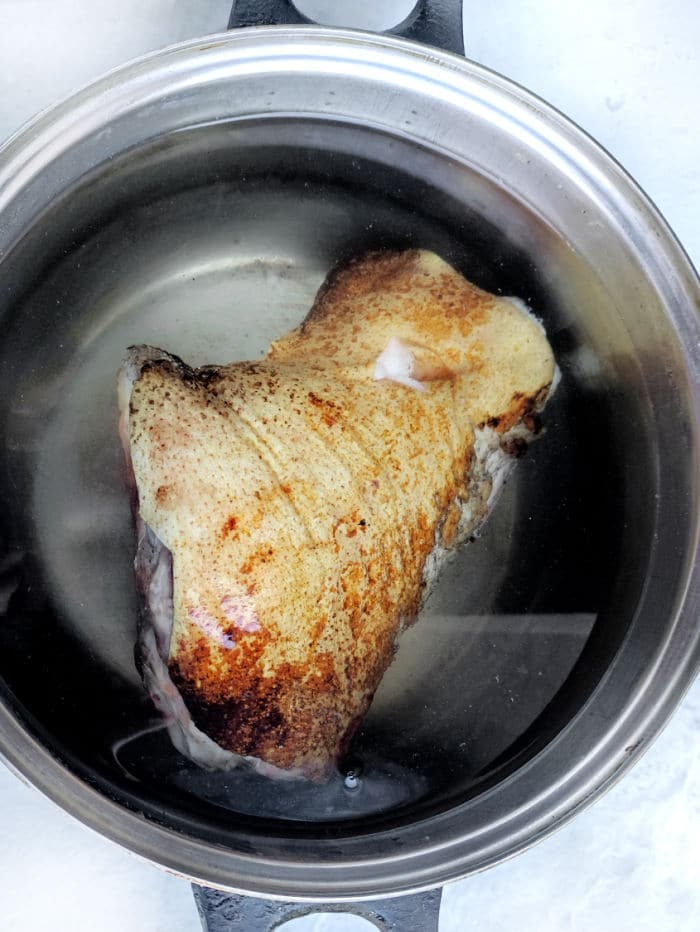 How to Cook Pork Shank
Below we will talk about cooking pork shank on the stove, with a little time in the oven if you choose to go those extra steps. I will share a few other methods to try that turn out well too. You really need high heat with steam or submerged into boiling water or broth.
Under high pressure works pretty well too. If you do have an IP, Crockpot Express or Ninja Foodi you can try that as well. The directions for that are faster but you still want to cover the meat with liquid to essentially boil them. You may be able to fit more than 1.
Instant Pot Pork Shank
You want to push the meat and skin down from the top of the leg like we did with our lollipop chicken recipe. That way you can put them the thick side down in the pot and not as as much water so they are covered.
Season shanks with salt and pepper all over
Set to saute with a bit of olive oil, brown on all sides
Pour 1 cup of white wine into the pot
Set pork shanks with thickest part facing down into pot
Fill rest of pot with broth or water until meat is covered, you can leave bone uncovered
Pressure cook under high pressure for 1 hour, allow to naturally release for 10 minutes
Pull meat off with a fork, toss with a sauce and serve!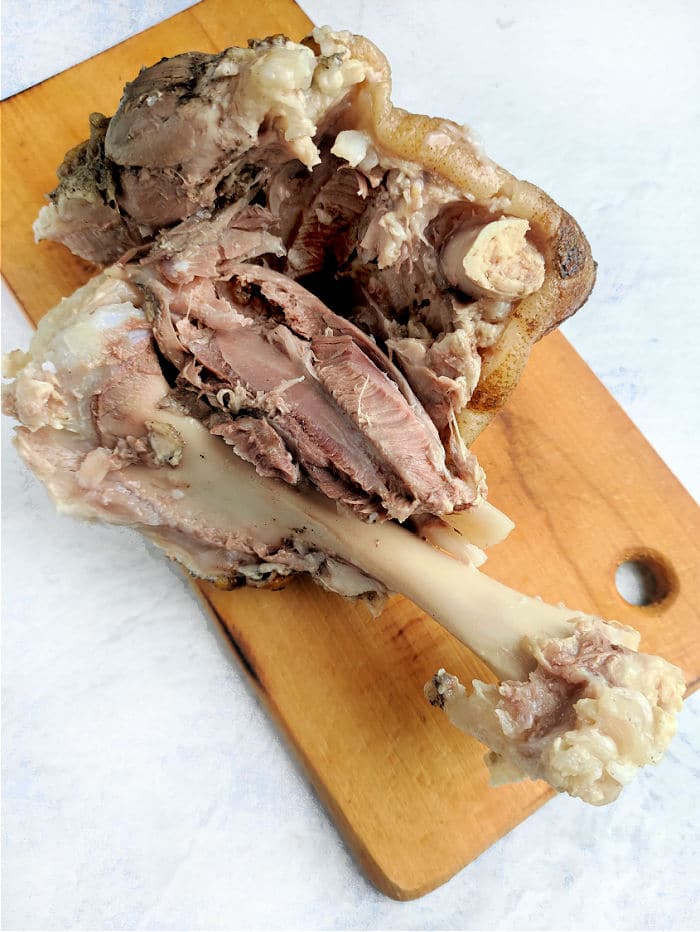 Pork Shank Pulled Pork
Yes we have made a few different types of Instant Pot pulled pork before, but we use different cuts every single time so we can share them with you. The biggest difference with this one is you don't really add sauce into the pot at the same time. You'll need to tenderize first, then add sauce once it's pulled off the bones.
When I make a cut like an arm roast or this that are typically tough, that actually means the meat is really flavorful. I think it is best to allow those flavors to shine and not coat them with a lot of sauce.
1.8 lb pork shank
water or broth
4 tbsp minced garlic
Salt and pepper
Paprika
12 black peppercorns
Bay leaves
Soy sauce
A bit of honey
We have used similar seasonings when making pork roast in oven at 375, or you could go the mustard sauce route inside for a bigger punch.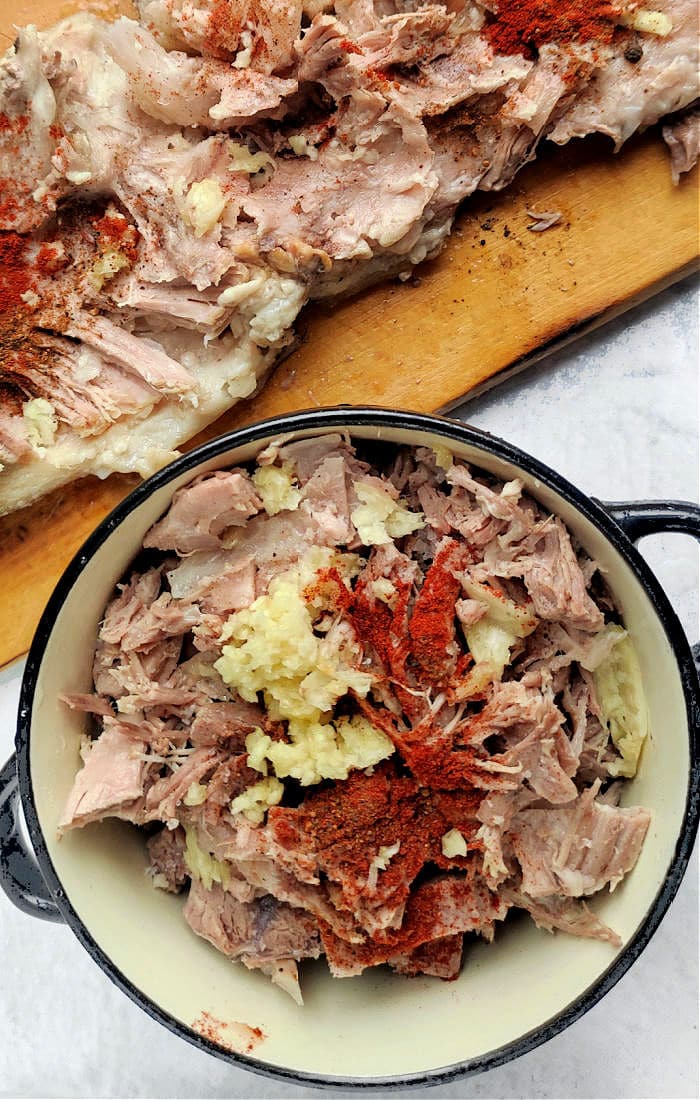 Pork Shank on Stove
Slow cook shank in a large pot or large dutch oven. Pour braising liquid such as hot water or broth over it so it is covered entirely. Cover pot with lid, bring to a boil. Reduce the heat and just simmer over medium high heat for about 3 hours or until the shank meat is falling off the bone.
20 minutes before it is ready, add bay leaf and peppercorns into the liquid. Let the cool in the broth for about 20 minutes.
Take out of the liquid, dry with a paper towel. Make a clean cut along the large bone. Separate meat and skin from bones (there are 2 bones).
Place the meat part on a board. skin side down. Separate the meat and cut or shred it into small pieces.

You can enjoy it now as is as pulled pork at this time if you want, and/or toss with sauce and make into sliders OR continue…….

Add garlic, salt and pepper the skin and meat. Pour spices, garlic, mix. Toss shredded meat with salt, pepper and minced garlic.
Put mixture into the middle of the layed out skin on your board. Bring edges of skin together, secure with cooking thread. Place into a casserole or baking dish.
In a separate bowl, mix honey and soy sauce. Spread the mixture on all sides of the shin. Slow braise the dish until browned on top, in a preheated oven at 350 F for about 20-25 minutes. Remove the cooking string and slice into pieces to serve, or transfer the pulled pork inside of the skin onto a serving bowl and enjoy.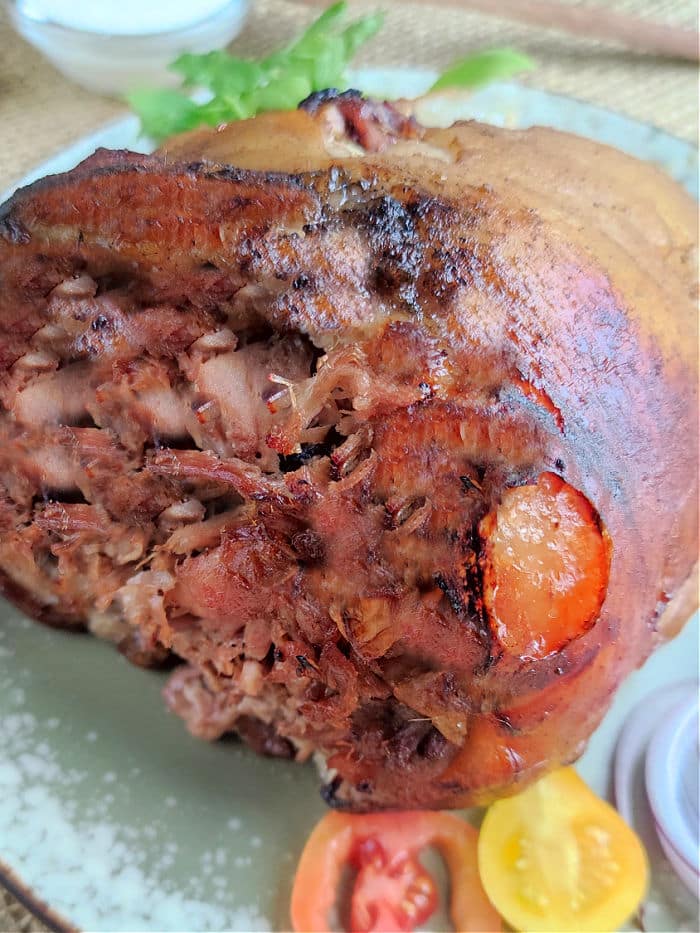 Now if you want to cook outside we love using our Traeger. This will take a bit longer than our smoked pork roast because there is a bone but there is less meat to break down so there isn't a ton of variance.
How do you reheat a pork shank
You want to allow the meat to reach room temperature which will take a good 30 minutes from the time of taking it out. Remove meat from the bones and transfer it into an airtight freezer bag or container. Store in the fridge for up to 4 days.
When you reheat add a bit of sauce on top or broth to add some moisture to it. Heat in the microwave for about 1-2 minutes until warmed. OR put it into our Slow Cooker split pea soup with ham recipe to add flavor and protein.